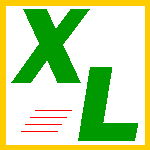 Excellerator
(Version 1.0a)
The Excellerator download provides a fully functional version of the add-in that can be used for 21 days for free. Registration is required to continue using it beyond the 21 day trial period. (Once the 21 day trial period has expired, entering a valid registration code will permanently restore the program to its full functionality.)
Excellerator is an add-in for Microsoft Excel that simplifies and enhances some of Excel's more complex functions and provides a host of additional tools and features that make Excel more powerful and easier to use. It is compatible with Excel 2000, 2002 (XP), 2003, 2007, 2010, 2013 and higher. Excellerator provides a number of new features and improved usability for Microsoft Excel. Most of Excellerator's functionality is available with the Easy Options dialog box. It provides utilities for handling view and protection options and for managing names, cell comments and external file links.
Unlike most Excel dialog boxes, the Easy Options dialog can stay visible while you continue working in Excel. This allows you access to all its tools and functionality without having to activate it repeatedly. You can shrink it to keep it out of the way as you're working and reactivate it with a single mouse click when needed. It also updates itself automatically as you continue to work.
In addition to the Easy Options dialog, Excellerator has several other functions for quickly protecting and unprotecting workbooks and worksheets and for quickly activating worksheets in the active workbook.